INDOOR COLLECTION
Collection of hanging indoor rocking chairs. The collection uses certified massage balls based upon the proven Czech physiotherapeutic method and will enhance your relaxation. Pleasant and high-quality coating material is aqua clean, easy to clean and maintain. It is colour-stable and abrasion-resistant. I was inspired by my own lack of rest feelings and from the need to learn to meditate, to let my imagination work and to relax in a gentle swinging that is so beneficial to our body and mind. I wish it also serves you well for relaxing, resting and deepening your inner peace and well-being, so you can be happy. An important added value is the handmade production I am proud of. It is a very important part of me. Equally important is the cooperation with my suppliers and their quality of production and products that I carefully choose.
OUTDOOR COLLECTION
SWINGY IN also has its outdoor variant - SWINGY OUT. You can enjoy your relaxation and rest on the fresh air as well.
BASIC PARAMETERS
SIZE
OF COVER: LENGTH 160 CM x WIDTH 110 CM

IN HANGED POSITION: WIDTH 104 CM x LENGTH 115 CM
MATERIAL
FABRIC, GENUINE LEATHER, BEECHWOOD, COTTON ROPES
FABRIC
SWINGY IN
SWINGY OUT
DOLCE* (60% PP, 40% PES)
VITA (60% PP, 40% PES)
*DOLCE: ordering a fabric within three months
COLOUR
CHOICE FROM SAMPLES (seen below)
Further information and colour selection is available upon request.
LEATHER
The leather parts are made of pork leather impregnated with beeswax, so beeswax is also recommended for further treatment. However, make sure the wax does not get on the cloth. This can be prevented by scraping the leather parts with crepe tape. The leather parts can still be dyed. Any staining of the material can be removed with dew or bile soap. The option using artificial leather does not require special treatment.
WOOD
For the treatment of wooden parts I recommend to use linen. You can of course also treat it with other wood preservatives. Ensure that the grooves of the rods that are designed to be slid on the ropes remain without any treatment. Failure to do so may result in abrasion or contamination of ropes during subsequent use. Seal these places with crepe tape and paint the wooden sticks with caution.
MATERIAL
The Spanish coating material is easy to maintain thanks to its AQUA CLEAN surface. This material can be cleaned locally with a cloth and soapy water or a steam cleaner at a temperature of up to 40 degrees Celsius. The ropes can be washed for a gentle program of 30 ° C, centrifuged at a maximum of 800 turns in a protective cotton fabric. I recommend washing powder without bleaches and brighteners, do not use softener. Drying: Do not put the chair in a tumble dryer. Dry it in a dry and warm environment.
HOW TO INSTALL THE ROPES AFTER CLEANING
Ropes are natural cotton, so I do not recommend washing them with washing powder, which contains bleach. After washing the rope "swells" a little and will not be easy to put on the spreader bars. I recommend wrapping the ropes at their ends with an ordinary adhesive tape and pulling them out so that their circumference is reduced, then you can easily get rods through the holes.
WARNING The armchair is very flexible at first use because the cotton ropes are not "stretched" to their final length. After a while the ropes length will stop growing and the chair will no longer spring.
INDOOR MATERIAL MYSTIC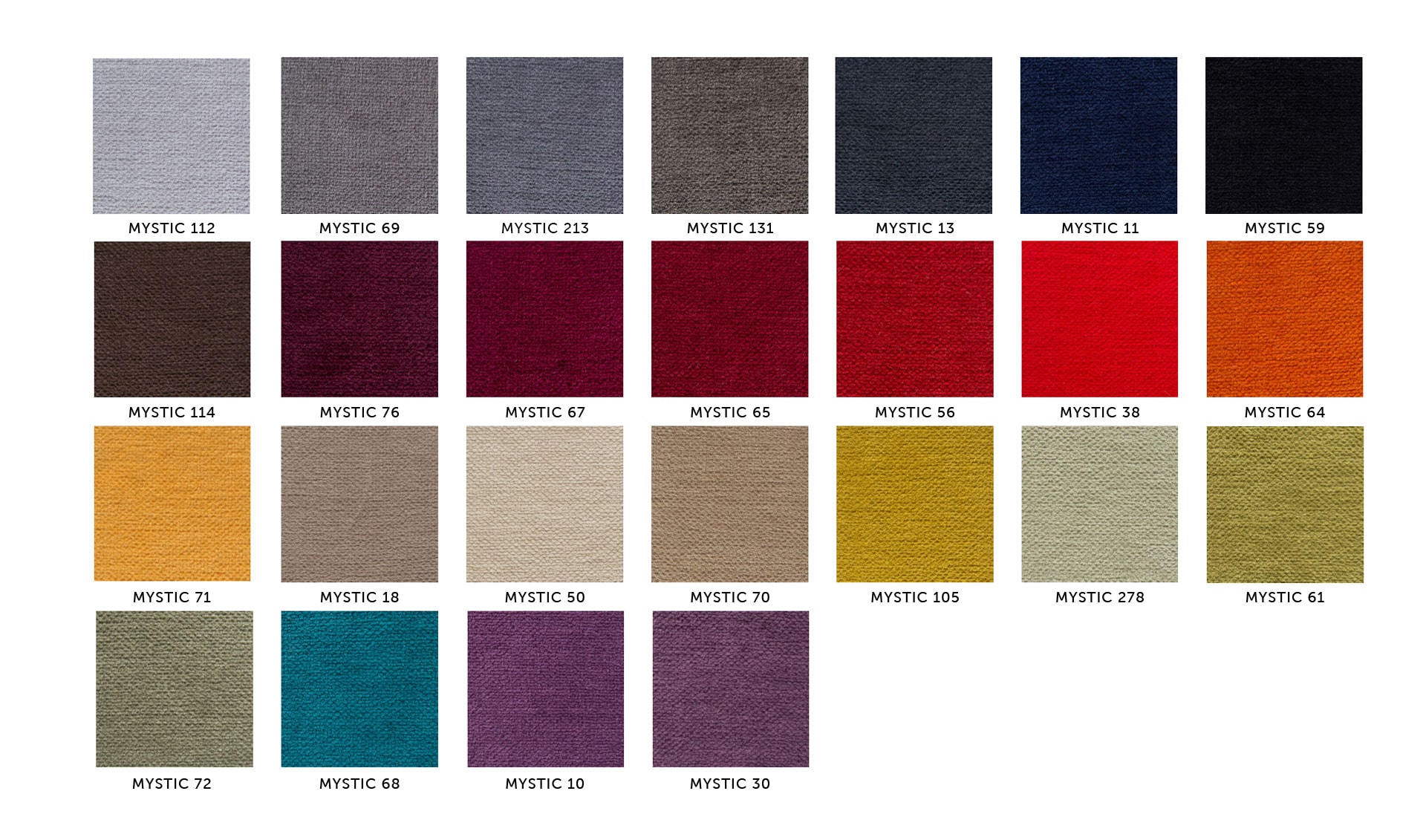 OUTDOOR MATERIAL DOLCE

OUTDOOR MATERIAL VITA